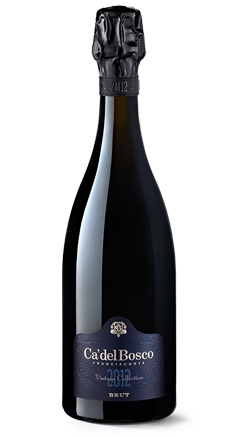 Vintage Collection Brut, Franciacorta Millesimato
Tasting Notes: Among the Franciacortas from Ca' del Bosco this is the one that best expresses the character of the territory and particularities that each year brings. Weather always writes unpredictable stories and their finales are the products of love between man and earth. Since 1978 the Vintage Collection Brut has been made solely in the finest years. The result of careful vinification but above all of longer aging that enhances its characteristics. A unique Franciacorta, structured, full-bodied with hints of baked apple framed by minerality and intensely persistent finish.
Food Pairings: A perfect wine for the whole meal. Its intensity is ideal for heavier cuisine like fried and grilled seafood or white meat dishes such as veal/chicken Milanese.
Grapes: 55% Chardonnay, 30% Pinot Nero, 15% Pinot Bianco
Origin: Franciacorta district (Lombardy)
Alcohol Level: 12.5%
Recommended Glass: Wide tulip-shaped sparkling or tulip-shaped white wine glass with a wider bowl
Serving Temperature: 42 - 46° F
Aging Potential: 8-10 years