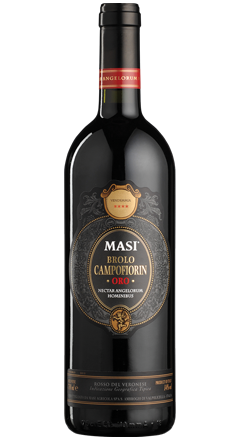 Brolo di Campofiorin
Rosso del Veronese IGT
Tasting Notes: This is a cuvée made from indigenous Veronese grapes vinified using the appassimento method and double fermentation Masi styles. The wine is dry, rich, velvety, complex, and elegant. It is structured on the palate with soft and balanced tannins that lead to a persistent finish of red fruit jam and sweet spices. Deep ruby red with purple hints. Elegant aromas of ripe red fruits and spices.
Food Pairings: The wine is matured in small oak casks. A versatile wine on the table, it pairs well with grilled or roasted meat, game, and cheeses.
Grapes: 80% Corvina, 10% Rondinella, 10% Oseleta
Origin: The term "Brolo" (which corresponds to the French "clos") refers to vineyards surrounded by stone walls. The Brolo di Campofiorin vineyards are located at Valgatara di Marano (in the heart of Valpolicella Classico zone), and it is here that the grapes for the original Campofiorin were grown. Very deep alluvial soil on eocenic limestone.
Alcohol Level: 13.72% vol
Serving Temperature: 18°C (64.4°F)
Aging Potential: Up to 20 years.